Green Initiative
Green Initiative
---
'World Environment Day (05.06.2022)'
World Environment Day on 5th June- team SARA celebrated this special day by holding yoga session, by plantation, organising a cycle rally for community awareness and by display of SARA Organic way of life. The event was attended by BSA Rakesh Singh ji as Chief Guest. Besides, there was gracious presence of classical singer Mamta ji, Bharatnatyam dancer Karishma ji, Santosh ji, Vishal Sir, Bandana ji, Manish ji and other esteemed guests besides SAAR Sansthan. The highlight of the event was cultural display comprising of yoga and dance and classical singing.
'Earth Day (22.04.2022)'
Glimpses of Earth Day celebration at SARA Campus- Today SARA Campus was abuzz with activity- plantation, nukkad natak, poster making, poetry recitation, discussions and role plays, cleaning of campus, slogans on nature and Earth, quiz sessions all were conducted at massive scale to mark the occasion. We promise to re learn the greatest lesson of all- to respect our base, our mother Earth. At SARA, Every day is Earth Day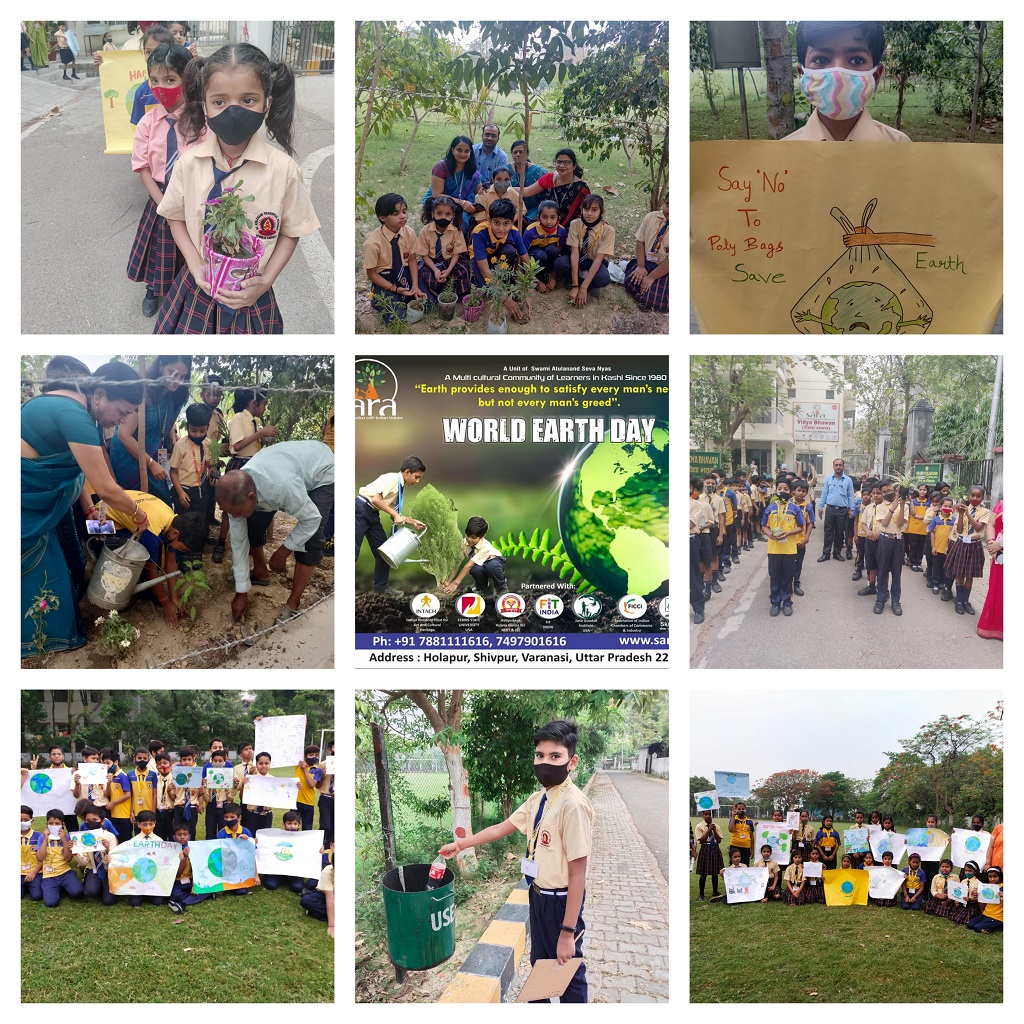 'GREEN SERENE LAP OF NATURE (06.11.2021)'
SARA is in the crowded city of Varanasi and still nestled in the green serene lap of nature, away from pollution and congestion, away from noise and in a sacred space of silence and vast open spaces for optimum learning environment. Sara बनारस में होते हुए भी बनारस के प्रदूषण और भीड़ भाड़ से दूर है l सड़कों की भगदड़ से अलग ये विद्यालय एक ऐसे सुरम्य वातावरण में बसा है जहाँ का नैसर्गिक सौंदर्य उसकी मनभावन हरियाली, स्वच्छ हवा पानी में परिलक्षित है l पिछले 40 वर्षों से सनातन गुरुकुल पद्द्ति पर संचालित ये विद्यालय और छात्रावास वैश्विक स्तर पर अपनी विशिष्ट पहचान रखता है l दीवाली के पश्चात बनारस भर में प्रदूषण की समस्या है (जिससे बच्चों में साँस की बीमारी आदि होती है ) पर sara परिसर ने मानो हरियाली का मास्क सा पहना हुआ हो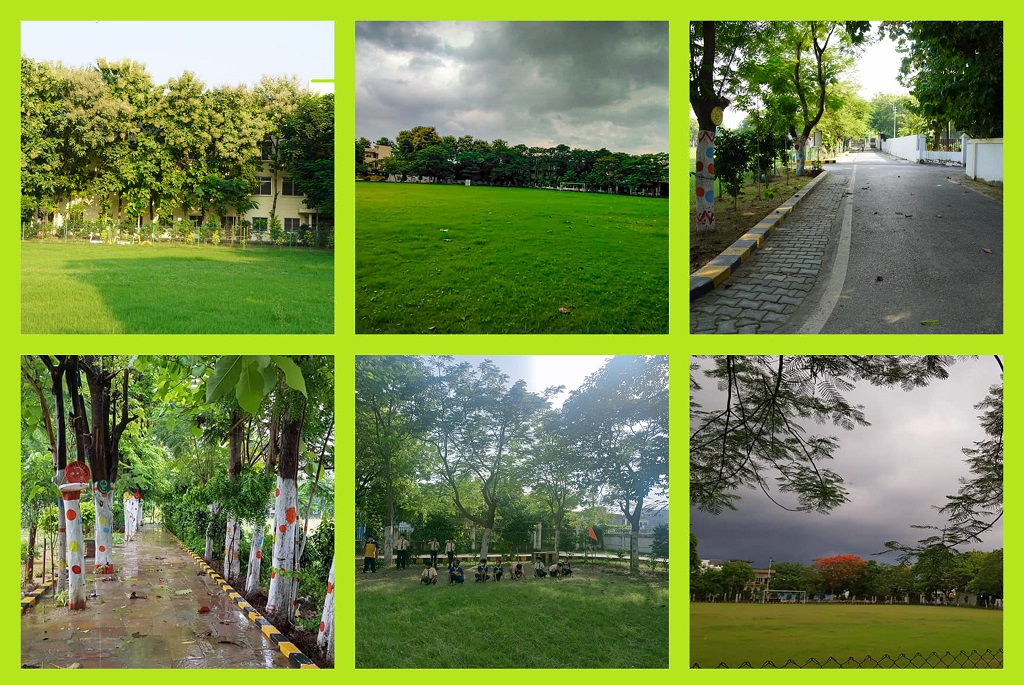 'GREEN CAMPUS OF SARA (18.05.2021)'
SARA School Campus is an exquisite oasis of green and magic in the heart of Kashi. Here are a few pics of the rain kissed campus after today's downpour in the city. The glistening leaves, the green buildings, the eco friendly ambience of this place has to be truly seen to be believed. To our students, we send our heartiest wishes and a message today- "WE MISS YOU and your physical presence in campus, STAY SAFE wherever you are." And of course, there is always a silver lining to the darkest cloud, isnt? !!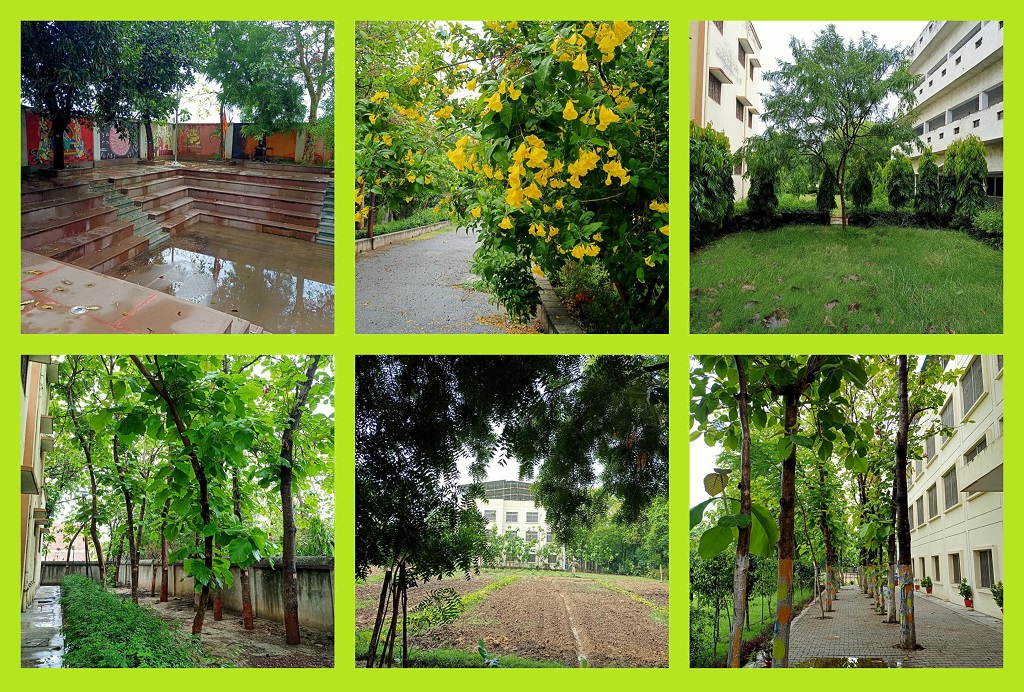 'GO GREEN (22.06.2021)'
Go Green- The Plantation Drive was carried out at SARA by HDFC Bank headed by its dynamic manager Mr.Dhirendra Singh ji. Mango saplings as well as other fruit trees were planted at SARA premises with full vigour and enthusiasm. Planting trees is one single panacea for all ills afflicting humankind today from pollution to corona. SARA is a green school and our mentors are committed to cleanliness and greenery.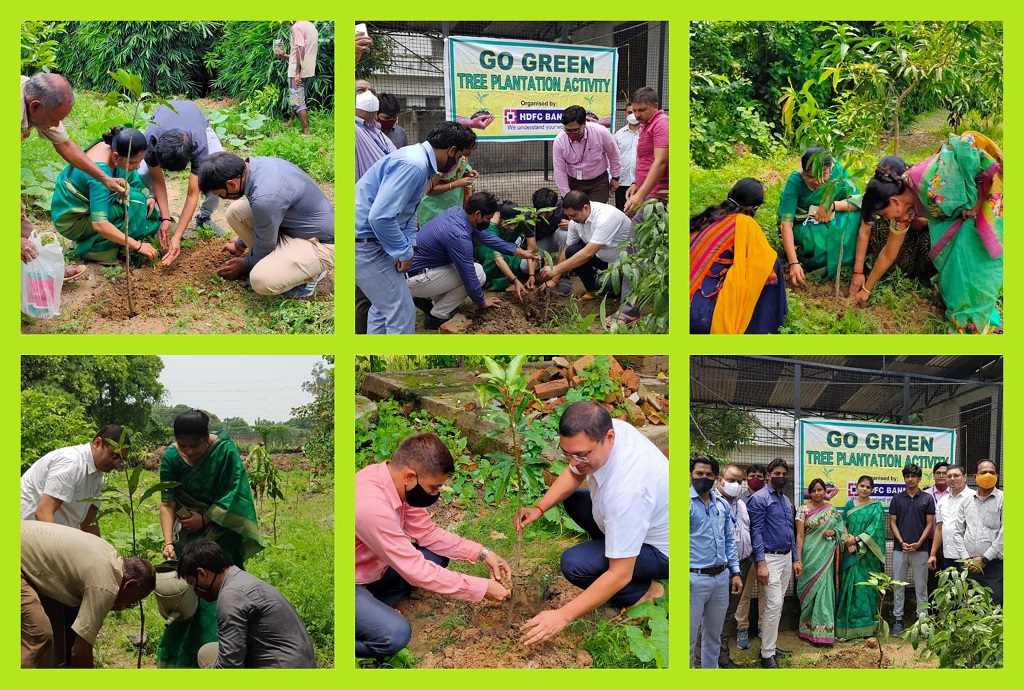 'WORLD RAIN DAY (29.07.2020)'
On #WorldRainDay, our toppers are seen planting trees in our school's green and serene campus. They were accompanied by guest mentor Economics Professor Tarun Dwiwedi ji, who heads the green vision of SSAR Sansthan.
By planting these treee, our toppers advocated love for nature and greenery.
Trees are symbols of new and positive beginnings. And with this, we wish that our gems will embark on their new academic journey with happiness and enthusiasm.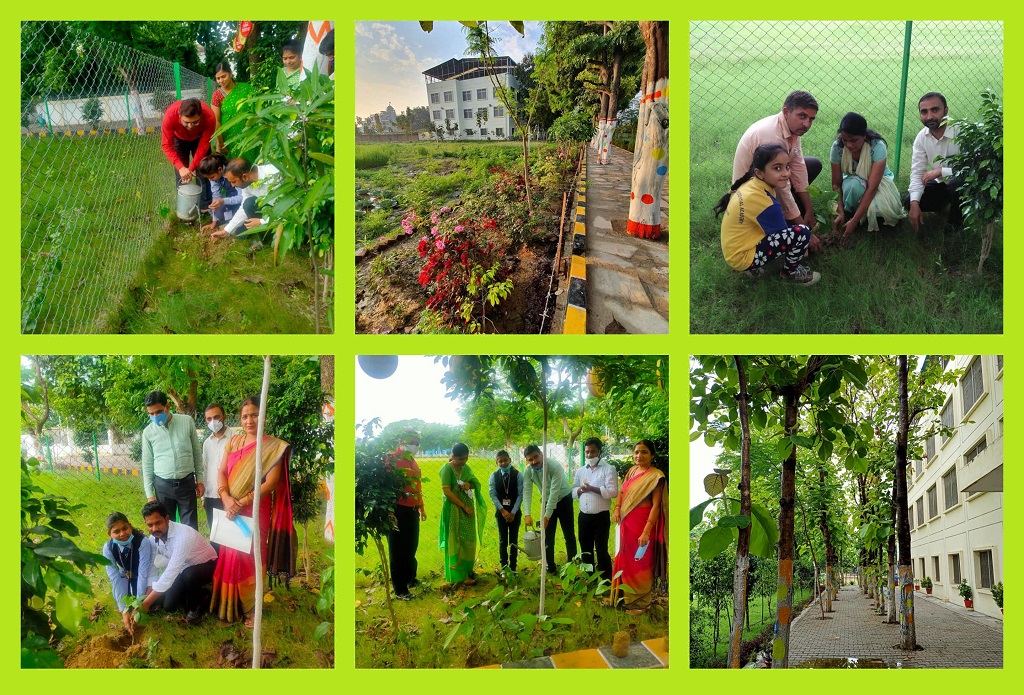 'WINTER COLOURS OF SARA CAMPUS (28.11.2020)'
Winter colours of SARA campus, as captured lovingly by our student Rishita alongwith her editorial team.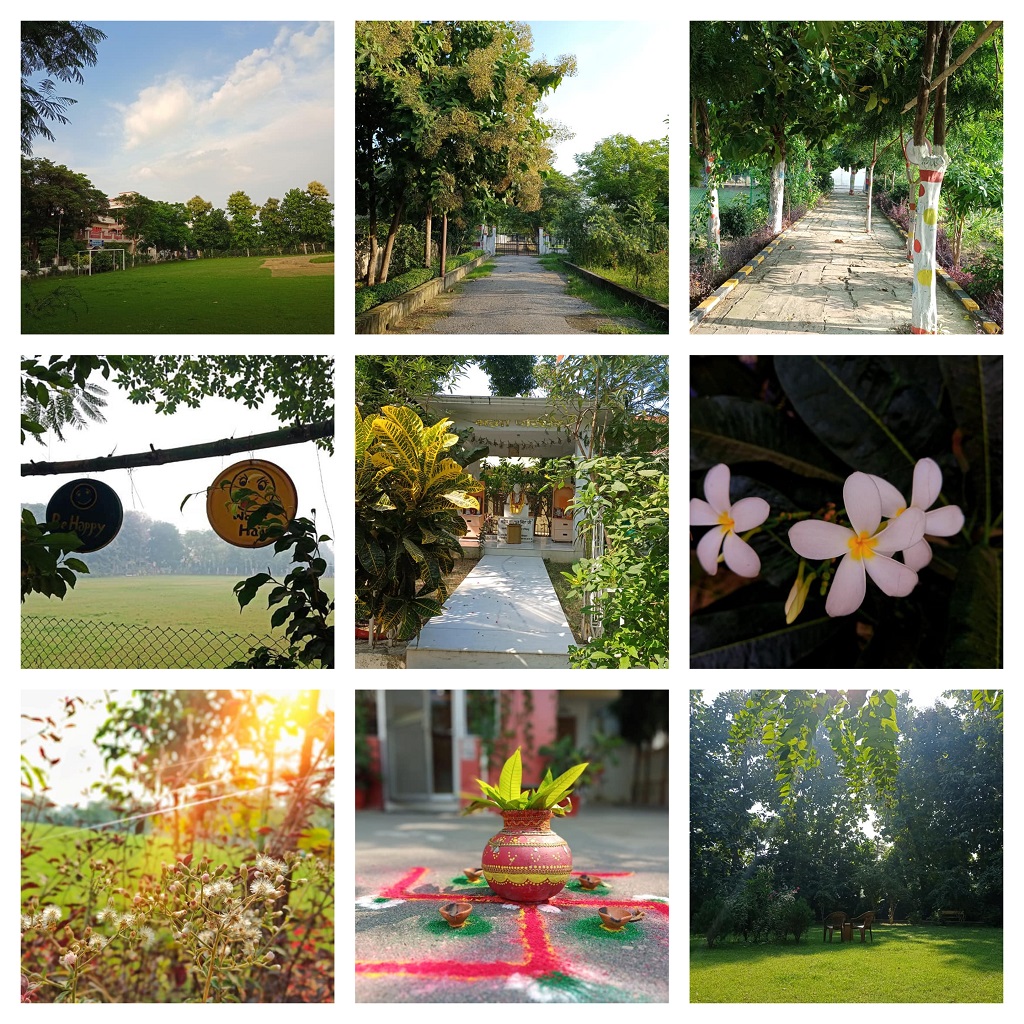 'SAVE WATER GO GREEN (06.07.2019)'
SARA ASAP CAMPAIGN # SAVE WATER, GO GREEN. Our Primary students come forward to be the crusaders for the cause of mother Earth!!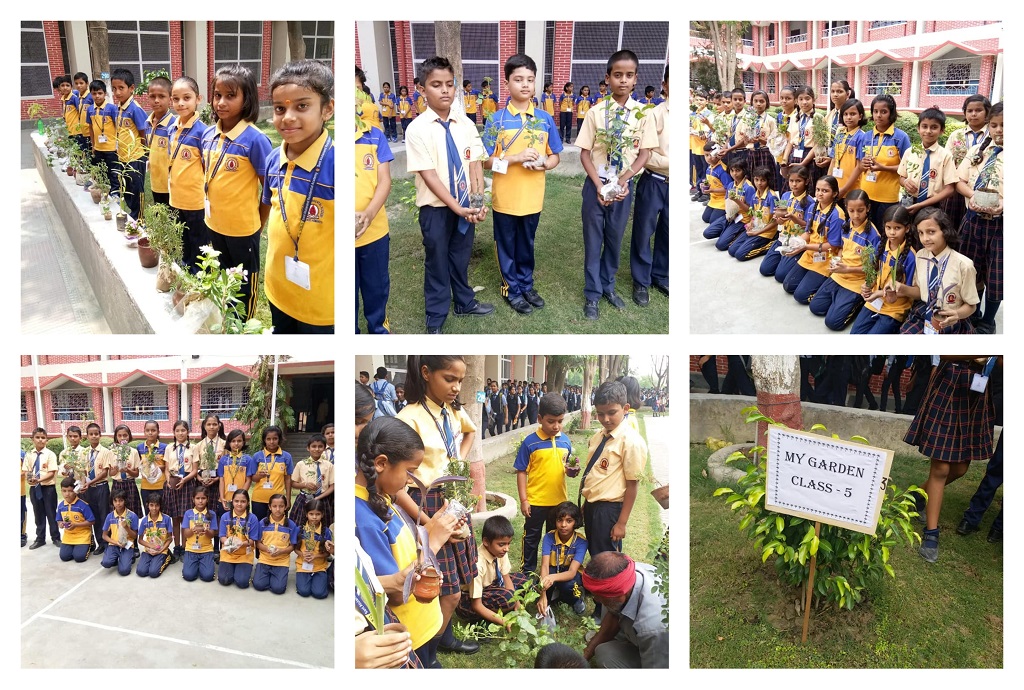 'NATURE WALK (28.03.2019)'
A new session 2019-20 starts and new hopes~ new dreams take wings!, The students exploring new dimensions, taking the classroom outside into the domains of experiential learning, the school campus is again reverberating to the melody of new beginnings!! # nature walk # familiarisation with SARA campus # paddy fields and hostel and dairy visit!!
'SBI DRAWING COMPETITION (22.08.2018)'
SBI Drawing competition and our Primary kids engage themselves positively in the green vision and the green mission # green India for a beautiful tomorrow.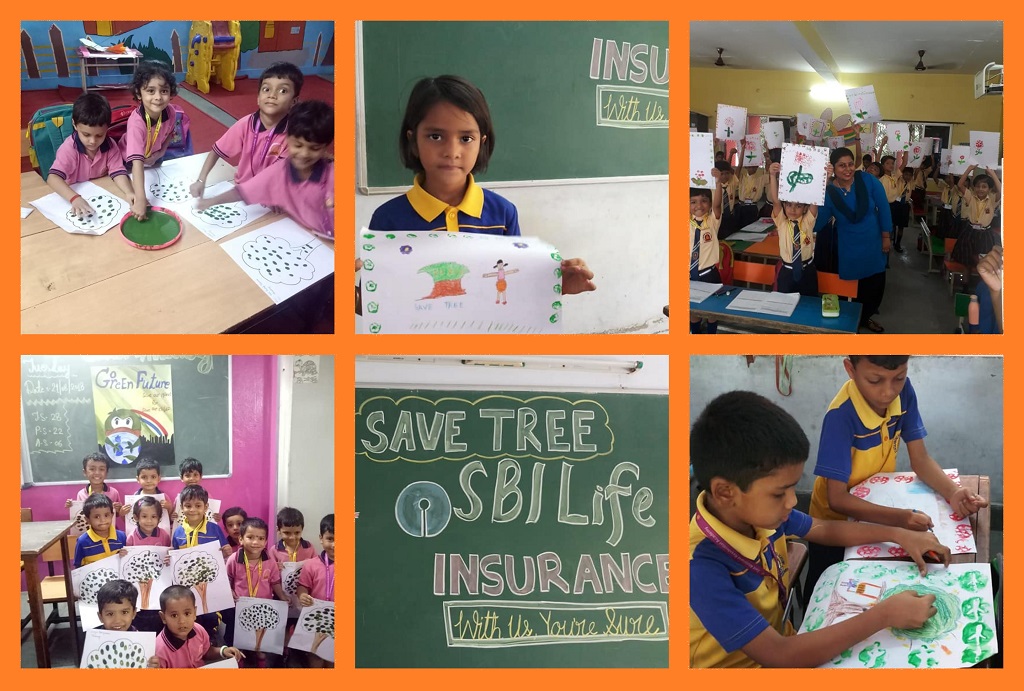 'LETS MAKE OUR EARTH GREEN (14.08.2018)'
SARA is a Green Campus. We are proud that Kashi ranks 33rd in the list of livable cities in India. We support CM Yogi and PM Modi s dream of a clean and green Kashi. Today, at SARA, pledging our commitment to nurture beauty, greenery and positivity!! Jai Kashi, Jai Kashi ke kotwal!!