Evolution
Evolution
---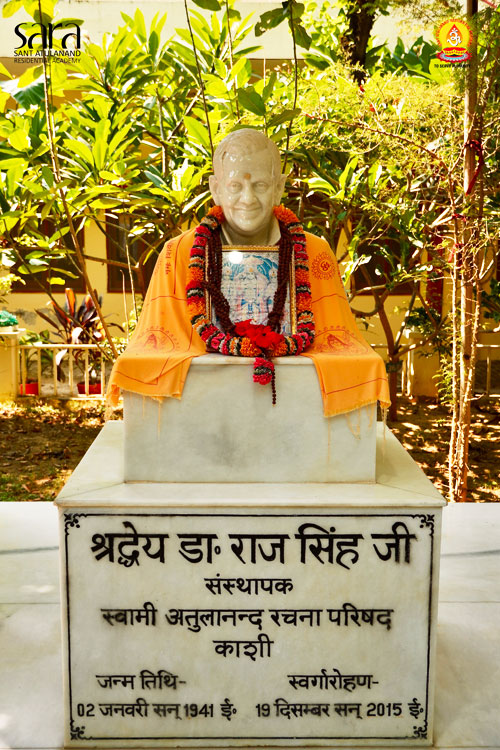 Sant Atulanand Residential Academy was established by Dr. Raj Singh in the year 2001. Dr Raj Singh was a dedicated academician and a true visionary. He was inspired by the dream of his Guru 'Nirvan Pithadhiswar Sri Sri 1008 Maha Mandleshwar Swami Atulanand Ji Maharaj' who envisioned a school rooted in the ethos of the traditional Indian Gurukul system. Dr. Raj Singh took it as his life's mission to fulfill his Guru's dream. He was ably assisted in this pious mission by his erudite and scholarly wife - Mrs. Vidya Singh to educate the children to become a responsible citizen through global education with Indian values.
Located in one of the oldest cities of the world, SARA is an educational institute where science and spirituality are in harmony. And the city of Holy Ganges, Varanasi, provided the perfect setting for this mission. Taking motivation from the traditional Gurukul system, SARA offers boarding facilities to outstation as well as local children. This is done keeping the goal of holistic education in mind.
Our students inculcate the value of 'Aapo Deepo Bhava' (be your own light) to become independent and vigorous to take on the world.
SARA strives to create a better world for everyone by instilling proper value system in the movers and shakers of the future!
Our Vision & Mission
"To impart Global Education with Indian Values"
The school's vision is to prepare and motivate our students for a rapidly changing world by instilling in them critical thinking skills, a global perspective, and a respect for core values of honesty, loyalty, perseverance and compassion. We maximize opportunities for our students to create a better future by providing them holistic value-based education of the highest quality. We also aim to generate practical and theoretical knowledge which enables students to better understand the world and improve conditions for the world at large.
Our vision and mission align with shifts in the global economy, society, and environment, which animate our values.